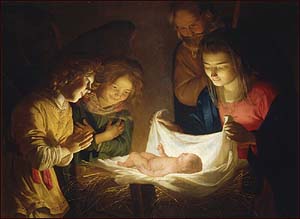 By Rev. Tim Miessler
When I was asked to preach at Synod, I was quite humbled and honored because there are far greater men than myself to pronounce God's Word to such a group. As I was considering how to approach this subject of the virgin birth of Christ and His incarnation, and having to limit myself to that one slice of His existence and revelation, I found it quite difficult. I toyed for a moment in that thinking process. Perhaps what I need to do is go through Machen's book, The Virgin Birth of Christ, and just simply summarize what's taught there and lecture that teaching to you, that you might be encouraged. Then I realized we probably all own Machen's book and you could go home and read it for yourself, and not have to listen to me talking for 45 minutes about the book you already probably know and love. I also realized that I had a difficult task of bringing to you God's Word, with which you are already very familiar. After this afternoon, my stomach was all in knots, not because of the opportunity to preach, but just because of discussion that we've had during Synod that I needed to be comforted by God's Word.
As I read from God's Word this evening, Luke 1:26-38, I want you to be mindful of the words that are spoken to you, the words about our Savior.
"Now in the sixth month, the angel Gabriel was sent from God to a city in Galilee called Nazareth, to a virgin engaged to a man whose name was Joseph of the descendants of David. And the virgin's name was Mary. And coming in he said to her, 'Hail, favored one; the Lord is with you.'

"But she was greatly troubled at this statement and kept pondering what kind of salutation this might be. And the angel said to her, 'Do not be afraid, Mary, for you have found favor with God. And behold, you will conceive in your womb and bear a son and you shall call his name Jesus. And he will be great and will be called the Son of the Most High, the Lord God will give him the throne of his father David and he will reign over the house of Jacob forever and his kingdom will have no end.'

"And Mary said to the angel, 'How can this be since I am a virgin?' And the angel answered and said to her, 'The Holy Spirit will come upon you and the power of the Most High will overshadow you, and for that reason the holy offspring shall be called the Son of God.

" 'And behold, even your relative Elizabeth, has also conceived a son in her old age. And she who was called barren is now in her sixth month, for nothing will be impossible with God.'

"And Mary said, 'Behold, the bondservant of the Lord! Be it done to me according to your word.' And the angel departed from her."
As I read through those verses and contemplated the small little ripples of troubles we may have in this world and in this life, my eyes were directed back to the Savior and my heart was warmed and instructed. It is my hope tonight not to lecture about an historical event, but to so reveal the Son of God and the Son of Man in such majesty that as you walk forth from here, as you view His life, His birth, His work, His reigning in glory, and the promise of His coming, His resurrection and the cross, you will look upon that with great favor and comfort and joy.